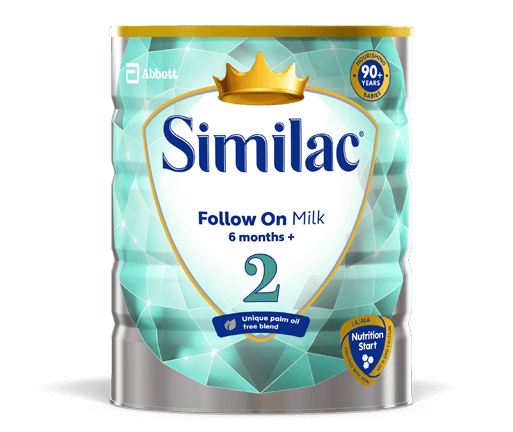 Follow On Milk 6 months+
What is Similac Follow On Milk?
For those who want to supplement breast milk or move on from breastfeeding, Similac Follow On Milk is specially formulated for babies from 6 months old.
Developed by dedicated scientists, our palm oil free formula provides key nutrients like omega 3 & 6, vitamin D, calcium and iron, to support your baby's growth and development at every stage, plus vitamins A and C to support the normal functioning of their immune system.
Where to Buy
Key nutrients for your baby from 6 months+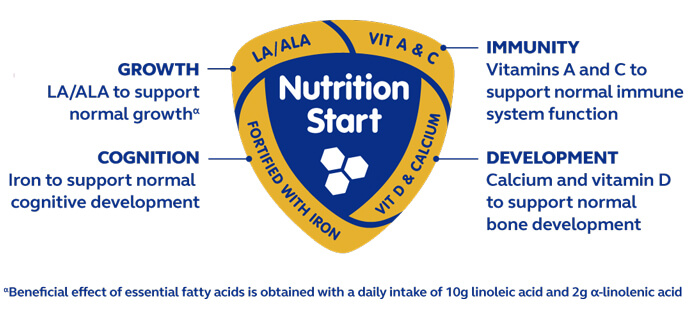 Palm oil free
Suitable for vegetarians
Suitable for Halal and Kosher diets
Available in 850 g tin

Nutritional Information
Typical values
Per 100 ml (prepared feed)
% Labelling Ref. Value Per 100 ml
Energy
282 kJ / 67 kcal
Fat
3.6 g
of which saturates
1.2 g
of which α-linolenic acid (ALA)
0.06 g
of which linoleic acid (LA)
0.63 g
of which docosahexaenoic acid (DHA)
9 mg
of which arachidonic acid (AA)
11 mg
Carbohydrate
6.8 g
of which sugars
6.7 g
Fibre (galacto-oligosaccharides - GOS)
0.3 g
Protein
1.7 g
Salt
0.08 g

Vitamins

Vitamin A
66 mcg RE
17%
Vitamin D
0.9 mcg
13%
Vitamin E
1.8 mg α-TE
36%
Vitamin K
6 mcg
50%
Vitamin C
9 mg
20%
Thiamin (Vitamin B1)
0.09 mg
18%
Riboflavin (Vitamin B2)
0.1 mg
14%
Niacin
0.5 mg NE
7%
Vitamin B6
0.04 mg
6%
Folic Acid
14 mcg
11%
Vitamin B12
0.18 mcg
23%
Biotin
2 mcg
20%
Pantothenic Acid
0.5 mg
17%

Minerals

Sodium
30 mg
8%
Potassium
79 mg
8%
Chloride
63 mg
13%
Calcium
67 mg
12%
Phosphorus
47 mg
9%
Magnesium
5.9 mg
7%
Iron
0.9 mg
11%
Zinc
0.6 mg
12%
Copper
0.04 mg
8%
Manganese
0.011 mg
1%
Selenium
1.6 mcg
8%
Iodine
14 mcg
18%

Others

Choline
14 mg
Taurine
4.1 mg
Nucleotide equivalents
2 mg
Ingredients
Skimmed milk, lactose (milk), vegetable oils (high oleic sunflower oil, soy oil, coconut oil), whey protein concentrate (milk), galacto-oligosaccharides (GOS) (milk), minerals (calcium phosphate tribasic, potassium citrate, sodium chloride, calcium hydroxide, magnesium chloride, ferrous sulphate, zinc sulphate, copper sulphate, manganese sulphate, potassium iodide, sodium selenate), arachidonic acid (AA) from M. alpina oil, vitamins (ascorbic acid, ascorbyl palmitate, vitamin E, niacinamide, calcium d-pantothenate, vitamin A palmitate, thiamin hydrochloride, pyridoxine hydrochloride, riboflavin, folic acid, phylloquinone, d-biotin, vitamin D3), docosahexaenoic acid (DHA) from C. cohnii oil, emulsifier: soy lecithin, choline chloride, taurine, choline bitartrate, nucleotides (cytidine 5'-monophosphate, disodium uridine 5'-monophosphate, adenosine 5'-monophosphate, disodium guanosine 5'-monophosphate), antioxidant: E306.
Allergy Advice: For allergens, please see ingredients in bold.
How to prepare Similac Follow On Milk?
Please ensure you read and follow all instructions carefully, as adding too much or too little formula to the baby's bottle, beaker or cup could be harmful and make them ill.
STEP 1 – Before you start, wash your hands and sterilise all utensils according to manufacturers' instructions, alternatively you can boil them for 10 minutes. After 6 months of age, if you are using a beaker, it is not necessary to sterilize the equipment, however please make sure everything has been fully cleaned
STEP 2 – Boil 1 litre of fresh tap water (not bottled water) and allow to cool for no more than 30 minutes. Do not use artificially softened water or repeatedly boiled water
STEP 3 – Carefully pour the correct amount of warm, previously boiled water into the beaker or bottle. Have a look at our suggested feeding guide, under the 'Feeding Advice' tab, to provide guidance on how much to feed your baby
STEP 4 – Fill the enclosed scoop with powder, levelling with the back of a clean, dry, knife. Do not pack down in the scoop
STEP 5 – Add one scoop of powder to each 60 ml of water. Only use the scoop provided. Adding too many or too few scoops can be harmful
STEP 6 – Place the cap on the beaker (or bottle) and shake gently until completely dissolved. If you are using a bottle, remove the cap and replace with a sterilised teat
STEP 7 – Test the temperature of the formula (drops should feel lukewarm on the inside of your wrist) and if necessary, cool by holding the beaker/bottle under cold running water. Feed immediately
Proper hygiene, handling and storage are important when preparing follow-on milk. Whilst they are made under hygienic conditions, powdered follow-on formulas are not sterile.
Discard any milk that has not been used within 2 hours. For hygiene reasons, we recommend you make up each feed as required.
Storage
Store unopened under normal room conditions. Once opened, replace the lid to keep the formula tightly covered and store in a cool, dry place (not the refrigerator). Use within 3 weeks of opening.
Suggested feeding guide
Babies' nutritional requirements will vary, but after 6 months, once weaning is established, your baby will need around 500 - 600 ml of milk each day. Please speak to your healthcare professional if you require further advice.
Prepared milk may be fed from a cup, and for older children can be mixed with cereal or other solid foods. However, please never add any food into your baby's bottle or beaker. If necessary, offer cooled boiled water between feeds. Never leave your baby alone at feeding times.
Important notice
Breast milk is best for babies and is recommended for as long as possible during infancy. Similac Stage 2 is only suitable for babies over 6 months as part of a mixed diet. Always speak to your doctor, midwife or health visitor for advice about feeding your baby. The decision to start weaning or to use this product before 6 months should only be made on the advice of a healthcare professional, based on your baby's individual needs. Good dental hygiene is important for babies and toddlers, please speak with your healthcare professional or dentist for advice. Always clean your baby's teeth after the last feed at night.
ANUKANI160087e,
Date of preparation: May 2016